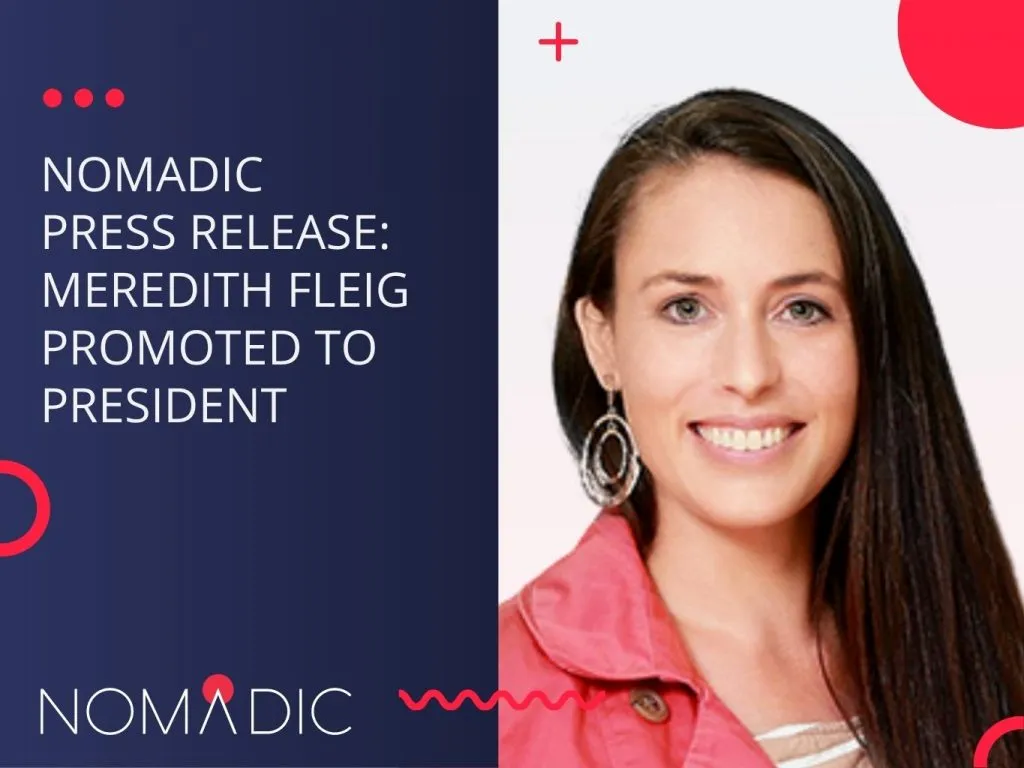 Nomadic Press Release: Meredith Fleig Promoted to President
Nomadic Marketing is thrilled to announce the promotion of Meredith Fleig to President and Partner of the company. Through this well-deserved promotion, Meredith will now develop, implement and direct the organization's operational performance.
Nomadic is excited to expand its leadership demographic to include a highly skilled female perspective.
Multiple research studies confirm what we know to be true: women are excellent leaders. A recent World Economic Forum's Future of Jobs report concludes that the most important skills required to be a successful leader include: listening skills, empathy, emotional intelligence, coaching & mentoring, and innovation. The research shows that without question, women are more skilled in these areas than their male counterparts.
Meredith possesses these traits and more, and Nomadic is grateful for the opportunity to rely on her expertise. She is a pragmatic dreamer with a specialization in Lean Six Sigma and advanced digital marketing strategies that guide projects from concept to completion.
As founding Partners, we would like to share their excitement about this promotion:
"I can think of no one better suited to take on the complexities of leading our team than Meredith. She is so skilled at taking a client's vision and transforming it into a finished product that improves their bottom line and moves them towards their goals." -Michael Burgin, CTO and Co-Founder
"Meredith is a trusted leader with proven impact time and time again. Nomadic is thrilled to promote her to President, a decision that will undoubtedly propel us towards continued success." – Brian Hennessy, COO and Co-Founder
"Adding Meredith's perspective and expertise to our Partner team will help us continue to meet expectations of our client base, and expand our reach." -Nathan Silsbee, CEO and Co-Founder
Please join us in congratulating Meredith Fleig as she transitions into her role as President. We look forward to the positive impact she will undoubtedly have!
Nathan Silsbee
CEO
Nathan is an accomplished entrepreneur who fantasizes about making positive disruptions in the world through the use of technology.
"*" indicates required fields