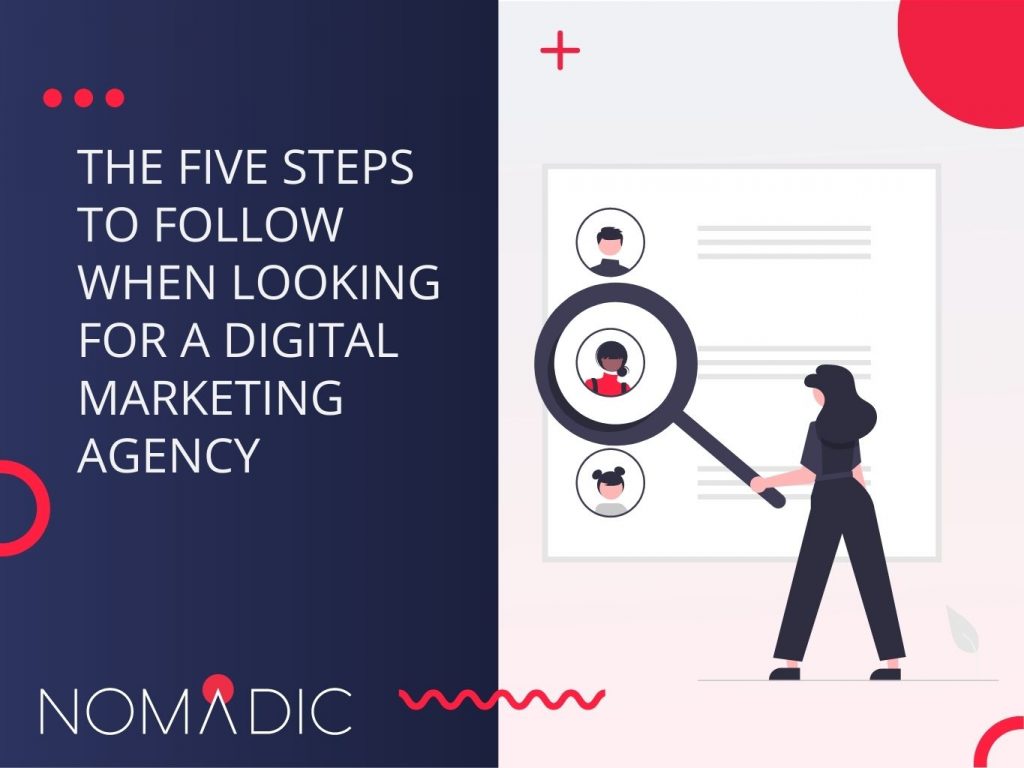 The Five Steps to Follow When Looking for a Digital Marketing Agency
In the current market, improving your digital equity and web presence is crucial. Bridging the gap between marketing, sales and operations is extremely important to create a full-system program to reach your goals and often times, it's a task too large for one person. That's why partnering with an agency can be one of the greatest assets to both your top and bottom lines. However, the agency landscape is quite saturated and selecting the ideal agency for you and your needs can be a daunting task due to the multitude of options available. How do you know which agency is right for you?
Although some agencies may offer a broader range of services, there is no one-size-fits-all solution suitable for every business' unique requirements. Hence, finding a company that aligns with your objectives, is amicable to work with, and is economically feasible becomes paramount. It's not just about meeting your goals but also partnering with a team that you enjoy working alongside to achieve them.
Here are 5 five things you need to know to find the perfect digital marketing agency for your business:
General Things You Need to Know Before Choosing a Digital Marketing Agency
Consider your ultimate objective. Are you trying to drive more traffic to your site? Understand attributions and where your leads are coming from? Increase revenue? Highlight your sales and special offers more clearly? Perhaps sell more of a specific product or service? For maximum impact, select an agency that inquires about your objectives and presents a lucid marketing strategy to achieve them.
Do they have a thorough understanding of your industry and buyers? This ensures they bring the necessary expertise and insight to the table, empowering them to deliver optimal services and solutions. Whether you are a logistics company, a healthcare firm, or a manufacturing business, choose a digital marketing agency that has experience with the niche challenges and specifics of your industry.
The agency should have a strong reputation in the industry. It is crucial that the agency you choose has a reputable standing in the industry with regards to word-of-mouth, references, and overall customer satisfaction. Select a business that has established a strong bond of trust and rapport with both their fellow enterprises and clients. Working with a reputable company can make a significant impact. The convenience of partnering with an established firm can provide peace of mind, creating opportunities for growth and success.
Positive reviews from past clients. A company's reviews can provide a wealth of insight into what to expect. A testament to the quality of their service, the collective experience of other clients is a valuable resource.
Trust agencies that are certified by Google Partners or Microsoft Certified Professionals– Acquiring these certifications demonstrates a comprehensive knowledge of marketing tactics and expertise in search engine optimization, social media management, and pay per click media buying.
Five Steps for Choosing a Digital Marketing Agency
Step 1: Consider your overall goals.
Selecting a digital marketing agency can be a daunting task, but it all starts with defining your objectives. Identifying the goals underpinning your search will not only guide you in your decision-making process but also maximize your chances of finding the right partner to achieve them. By establishing the type of online presence you want and the return on investment (ROI) metrics that matter to you, you will be able to determine how to gauge success.
When deciding what types of services to incorporate, let your budget guide you. Prioritize services based on the potential impact you're hoping for. A well-planned approach will help ensure you make the most of your available resources. Are you trying to increase your overall web traffic? Perhaps you're hoping to create a stronger market share than particular competitors? Each of those goals necessitates specific and targeted digital marketing efforts. The crux lies in spotting an agency that is adept with their work and experienced enough to deliver good results while working within your financial constraints—and that's when you can put your faith in them to carry out their task commendably and put your time and energy into other items on your plate!
Step 2: Look for a relationship, not a contractor.
When searching for an agency, seek out a partner who fosters a meaningful and trusting business relationship. Avoid simply hiring a contractor to tick boxes off a to-do list. Invest in a partner that truly understands your needs and has the ability to exceed expectations.
Digital marketing agencies become effective when working in harmony with clients, meticulously crafting campaigns that align with business objectives and their unique brand characteristics. Through close collaboration, a tailored marketing strategy is crafted and executed to ensure optimal results. An agency should be a support system for you to lean on, with strategic conversations that are transparent and open. When an issue arises, you have a team that you trust to problem-solve with you.
The team should furnish you with practical know-how regarding past successes, and provide a clear strategy for tackling your unique business objectives. There needs to be strong collaboration between both parties so that everyone is on the same page with regard to strategy and execution of campaigns. This also means they'll be able to give clear feedback on results quickly after launch so you can make adjustments as needed.
Step 3: Look for agency experience in your industry.
As you whittle down your shortlist of digital marketing agencies, it's important to assess their experience. To do so, examine their track record with clients and evaluate their ability to meet and exceed targets. Such assessments will enable you to choose an agency that delivers results and meets your needs. Has the agency done work with other companies in your industry? Are they familiar with the challenges and requirements for a website or software application for your target audience?
With each industry presenting unique challenges, terminology, and best practices, finding an agency that understands your company's offerings and differentiation from competitors is imperative. This allows for the agency to effectively strategize on your behalf and drive your success. Don't be afraid to ask a potential company for examples of work they have done in your industry. A great way to vet this experience is to look at the agency's case studies and results for past clients.
Looking To Scale Your Business?
Contact us to get started!
Step 4: Check their technical resources.
Before moving forward, we highly recommend thoroughly evaluating the technical resources and assets of the team. This extra step will ensure that you are aligned with the right partner for your project's success. A successful B2B digital marketing campaign hinges on seamless communication between each channel to make omni-channel marketing truly effective. Many B2B businesses rely on multiple touch points for a prospect before a decision is made, which is why you need a strategy that hits every platform they can be found on. To ensure the best results, it's crucial to choose an agency with in-house experts capable of diverse tasks. Their skill-set should span from website and software design/development to content creation and beyond. Effective digital marketing and SEO requires end-to-end implementation with everyone from UX/UI designers to social media strategists to copywriters. Select a digital marketing agency that is capable of facilitating all the marketing strategies you need.
Furthermore, to maximize the benefits of social media and web-based platforms, companies must be strategic. This requires conducting research to identify the most appropriate platforms for your business. An impactful agency will conduct omni-channel marketing to create a system that works for you and will prime SQLs for your team.
Finally, do some vetting of their own web presence to make sure you like what you see. Do they have a strong online presence? Look at the agency's website. Is it clean, easy to navigate and visually appealing? Does it contain information about their team and portfolio of work? Are there testimonials from previous clients?
Step 5: Look for compatible attitudes and culture.
When selecting a digital marketing firm, aim for compatibility between your business and the agency you choose. This makes it easy for both parties to engage meaningfully and work towards common goals, leading to a more productive business partnership.
When meeting with leadership and team members, you should absolutely feel like you can trust their skill set and ability to do good work. However, beyond that, it's crucial that you like them as people! You will be forming an ongoing working relationship with this agency, so their approach to the work and company goals should complement your own. If they are willing to collaborate with you and make adjustments when necessary, then this is a good sign that they will be able to meet your expectations.
What's next?
Having gained knowledge about various digital marketing agencies, the next step is to select one that caters to your specific requirements, ensuring it aligns with your goals and objectives.
It's important to remember that there is no "one size fits all" when it comes to agencies. When selecting an agency, consider their industry experience, expertise, as well as their attitude and culture.
Our guide aims to empower you with a clear understanding of what to look for in a digital marketing agency and how to find one that caters to your unique needs. We hope it has provided valuable insights and helps you make an informed decision.
For those looking to improve their online presence, SEO and digital marketing strategies, we'd love it if you'd allow us to elevate your web game to new heights! Reach out to Nomadic today for a free consultation and to meet our team!
Meredith Fleig
President
Meredith is a pragmatic dreamer with specialization in Lean Six Sigma, Agile Project Management and advanced operational and marketing knowledge to help guide strategies from concept to scale with an operational approach. By taking on a proactive leadership mentality, with a focus on forecasting and streamlining processes, Meredith is able to motivate teams, inspire confidence in growth and create an atmosphere encouraging productivity and problem-solving.
"*" indicates required fields