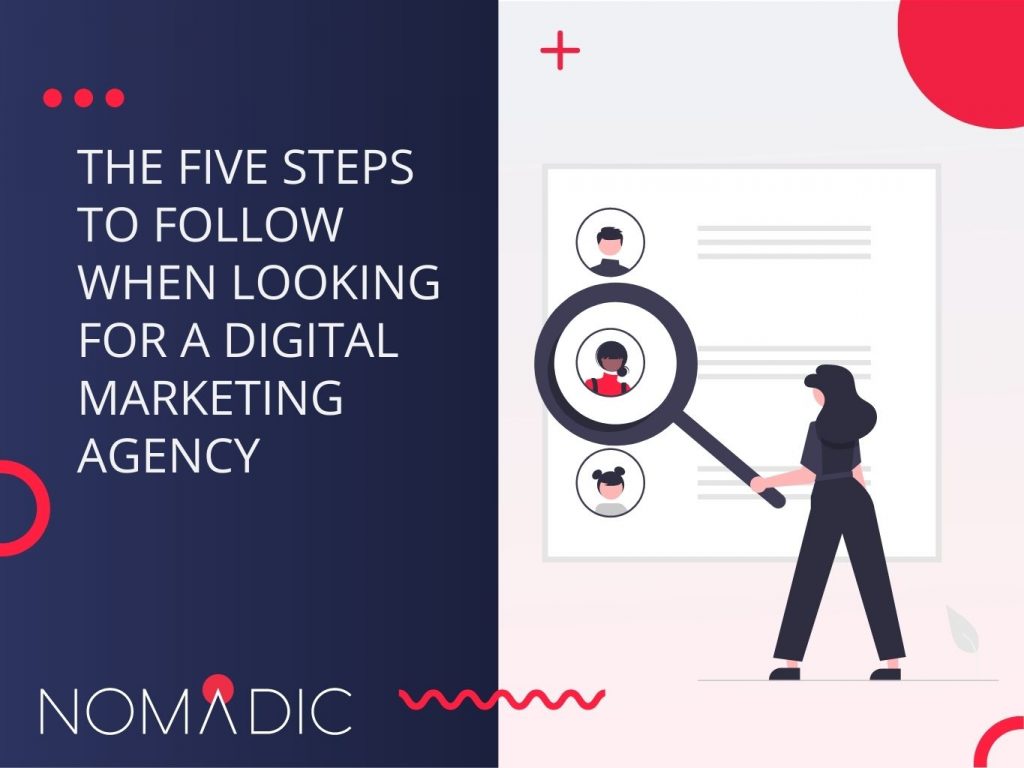 The Five Steps to Follow When Looking for a Digital Marketing Agency
For those who are looking to improve their web presence through digital marketing, it can be overwhelming to choose the right agency. While some agencies offer more services than others, there is no one-size-fits-all solution for every business' needs. Therefore, it's crucial to find a company that can meet your goals, is pleasant to work with, and is within your budget. Here are 5 five things you need to know to find the perfect digital marketing agency for your business:
General Things You Need to Know Before Choosing a Digital Marketing Agency
Think of your end goal. Are you trying to drive more traffic to your site? Highlight your sales and special offers more clearly? Perhaps sell more of a specific product or service? Choose an agency that asks what your goals are, and has a clear marketing plan to get you there.
The agency should be familiar with your industry. Whether you are a logistics company, a healthcare firm, or a manufacturing business, choose a digital marketing agency that has experience with the niche challenges and specifics of your industry.
The agency should have a strong reputation in the industry. Choose a company that has a built trust and rapport with other businesses and customers. It will make a big difference to work with a company that has established itself well.
Good reviews from past clients. Reviews speak volumes about what you can expect from a company.
Trust agencies that are certified by Google Partners or Microsoft Certified Professionals– these certifications show that they know how SEO works as well as other aspects of online marketing like paid ads on Google AdWords or Bing Ads, social media management etc
Five Steps for Choosing a Digital Marketing Agency
Step 1: Consider your overall goals.
The first step in choosing a digital marketing agency is to determine your goals. This will help you determine the type of presence you want to have online and what kind of return on investment (ROI) numbers are important for you.
Your budget will determine the limits of what types of services you incorporate so prioritize these services based on the impact you're hoping for. Are you trying to increase your overall web traffic? Perhaps you're hoping to create a stronger web presence than particular competitors? Each of those goals necessitates specific and targeted digital marketing efforts. The key here is finding an agency that has experience working within your budget constraints and still gets good results—and then trusting them to get the job done well!
Step 2: Look for a relationship, not a contractor.
To find the right agency, look for a partner that can foster a trusting and meaningful business relationship, not just a contractor to check off boxes on a to-do list.
An effective digital marketing agency works closely with you to design and implement a strategy that fits your needs. An agency should be a support system for you to lean on, with strategic conversations that are transparent and open. When an issue arises, you have a team that you trust to problem-solve with you.
The team should be able to provide insight into what has worked well in the past, and how they would approach your specific business goals. There needs to be strong collaboration between both parties so that everyone is on the same page with regard to strategy and execution of campaigns. This also means they'll be able to give clear feedback on results quickly after launch so you can make adjustments as needed.
Step 3: Look for agency experience in your industry.
As you're narrowing down your list of potential digital marketing agencies, it's time to evaluate their experience. Has the agency done work with other companies in your industry? Are they familiar with the challenges and requirements for a website or software application for your target audience?
Since each industry has such individualized challenges, terminology, and best practices, it's crucial to find an agency that has a firm understanding of what your company offers and how that differs from your competitors, so they can strategize for you effectively. Don't be afraid to ask a potential company for examples of work they have done in your industry. A great way to vet this experience is to look at the agency's case studies and results for past clients.
Step 4: Check their technical resources.
Next, it's a great idea to vet their technical resources and assets. This is an important part of your digital marketing campaign because omni-channel marketing is only as effective as the communication between each channel. Your agency should have a team of in-house experts who can do everything from website and software design and development to content creation, and more. Effective digital marketing and SEO requires end-to-end implementation with everyone from UX/UI designers to social media strategists to copywriters. Select a digital marketing agency that is capable of facilitating all the marketing strategies you need.
Furthermore, it's crucial to know what social media and web-based platforms your company should be active with based on strategic research. An impactful agency will conduct omni-channel marketing to create a system that works for you and will prime SQLs for your team.
Finally, do some vetting of their own web presence to make sure you like what you see. Do they have a strong online presence? Look at the agency's website. Is it clean, easy to navigate and visually appealing? Does it contain information about their team and portfolio of work? Are there testimonials from previous clients?
Step 5: Look for compatible attitudes and culture.
If you're hiring a digital marketing agency, look for compatibility between your business and the company. When meeting with leadership and team members, you should absolutely feel like you can trust their skill set and ability to do good work. However, beyond that, it's crucial that you like them as people! You will be forming an ongoing working relationship with this agency, so their approach to the work and company goals should complement your own. If they are willing to collaborate with you and make adjustments when necessary, then this is a good sign that they will be able to meet your expectations.
What's next?
Now that you have a good idea about the different types of digital marketing agencies, it's time to find one that fits your needs.
It's important to remember that there is no "one size fits all" when it comes to agencies. You should choose an agency based on their experience and expertise in the industry, as well as their attitude and culture.
We hope this guide has helped you to better understand what you need in a digital marketing agency, and how to choose one that fits your needs. If you are ready to elevate your web presence through impactful SEO and digital marketing, reach out to Nomadic today for a free consultation and to meet our team!
Meredith Fleig
Head of Department
Meredith is a pragmatic dreamer with specialization in Lean Six Sigma and advanced digital marketing strategies to help guide projects from concept to completion. Outside of work she soaks up every minute she can with her two daughters.