How to Do Keyword Research for SEO in 2022 [Guide + Tools]
Keyword research can be tricky, especially in 2022 when there are so many ranking factors and variables to consider.
In this article, we'll break down how to do keyword research for SEO. It is particularly focused on blog SEO, however, you may find the information helpful for other implementations as well.
For information on keyword research as it relates to local SEO, make sure to read our local SEO strategy guide.
This blog is the precursor to our blog SEO checklist article where you'll learn, in detail, how to implement your keyword research into a fully-optimized piece of content.
What is Keyword Research?
At a high level, keyword research is the process of identifying search queries that can be implemented into a piece of web content in order to appear in the search results on search engines for those search queries.
Although, keyword research in 2022 is much more than that. It's actually topic research which we will discuss in more detail later on.
Keyword research often involves using tools that help us identify target keywords. These are keyword research tools.
Keyword research often involves multiple stages, for example:
Ideation
Estimation
Analysis
Refinement
Implementation
Auditing
Below, we will break down the step-by-step method of keyword research to analyze each of these stages more closely.
Where is Keyword Research Used?
Keyword research is used primarily for indexing in search engines and to effectively reach and communicate to the people searching for content.
Search engines traditionally use keywords as a relevancy signal to populate your piece of content as a search result.
Search engines such as Google have become much more advanced even in just the past 5 years. For example, Google RankBrain is a part of the Google Ranking Algorithm that uses sophisticated methodologies to populate relevant search results.
It's not all about Google, however. Keywords are also relevant to platforms like Amazon, Bing, YouTube, and Etsy.
Each of these platforms have different "rules" and algorithms – in this blog we'll be particularly focused on Google SEO.
Keyword research on your website can be used in the paragraph content, meta description, SEO title, focus keyword, alt tags, image file names, and headings. Really, anywhere text can go, keywords can be used there.
But it's not all about where to put keywords, in-fact we think keyword research is more about the users than the search engines themselves.
Do Keywords Still Matter for SEO?
Yes, keywords still matter for SEO.
This research above was performed by SEMRush to find out what ranking factors impact SEO the most.
As you can see, Keywords are on the bottom end of the effectiveness scale. However, the fact that they are on this list and hold as much weight as they do, means they are still very important.
Keyword research is still imperative to SEO success and should be used whenever creating a piece of content that you intend to be found by users on search engines.
But how to think about keywords and how to use them have changed. As we mentioned earlier, keywords should be thought more of as topics.
In the past, keywords held so much weight and the search engines were so simplistic, they could easily be used on-page in a way that would encourage search engines to heavily favor that page. This is called "keyword stuffing."
Keyword stuffing involved placing target keywords (user search queries) wherever possible, as many times as possible.
Keyword stuffing no longer works and can even result in worse rankings if abused.
Thinking of Keywords as Topics
Since keyword stuffing and other similar tactics are outdated, how do you effectively use keywords from keyword research efforts?
As you can see in the chart above, user behavior signals are a top-ranking factor for content on search engines.
User behavior signals study how users are interacting with your content. Not just on your website but on search engines as well.
Making sure your content is ranking for search terms that produce positive user behavior is critical to SEO success.
This is where topics come in. When users are searching for information on search engines, they want all of their questions answered. Google understands this as well and factors this into their algorithm in different ways.
When users bounce from site to site (also called "pogo-sticking"), Google recognizes that the user's query has not been fully satisfied.
This is a negative signal to Google. It's communicating that your site is not satisfying to users and does not answer all of their questions.
So, in order to resolve this, it's imperative to answer all potential user search queries on your given page.
Your selected target keyword (the one you want to show up on Google for) becomes the main topic.
Any subsequent related keywords and queries become the subtopics that should be answered within the content.
For example, if your target keyword is "window repair," this is how you might structure your blog or page:
SEO Title contains: Window Repair
Sub Headings contain: how to repair windows, how to repair a rotted window frame, how to repair a double pane window, window leak repair, etc.
This way you are not just answering the subject of window repair, you are clearly providing comprehensive answers to multiple questions surrounding the main topic.
This is not only a positive for user behavior, but this will also expand your potential rankings and traffic for a variety of keywords around your target query.
The object of writing a piece of content with SEO intent is not necessarily to gain traffic and rank for just one keyword alone, but to gain traffic for many different related queries as well.
While keywords uncovered by keyword research are great to include throughout your content, it's not necessary to force them in wherever possible.
Our best advice is to be familiar with what your target and secondary keywords are but focus on covering the topic comprehensively and authoritatively while writing as naturally as possible. There is no need to write for search engines in an unnatural way.
Use Keywords in Your Blogs to Become an Authority
Now that you understand keywords are really topics (especially in the context of blogs), you can begin to think about how you would integrate this into your own website.
We often find that clients understand they want to rank on Google for core keywords. For example, a real estate organization wants to rank for "real estate orlando florida." It's an obvious target and they know people are searching the internet for this and want their business to be found.
But ranking on Google and getting traffic to your site goes far beyond that in 2022.
If you truly seek to be the top authority in your space and beat the competition, you're going to need to outpace your competitors in every way possible.
Your competitors are also competing for those same obvious keywords.
Where you can get the edge is with highly-targeted, comprehensive, authoritative blog content.
So for this hypothetical real estate company, they could write about anything to do with housing or living in Orlando, FL. For example:
Does Orlando Florida Get Hurricanes (And How to be Prepared)


Where are the Best Places to Live in Orlando,FL in 2021?


How to Dehumidify Your Home During Hot Summers [20+ Tips]
This type of keyword targeted niche content will open up the flood gates to allow much more traffic to flow to the site via search engines.
It also positions the business as a knowledge authority on the topic, and within its competitive space.
Limiting your website to just target keywords will not only hold you back from getting additional highly valuable traffic, but it will also hinder your overall ranking potential.
As the aphorism goes,
"A rising tide lifts all boats"
It's important to note that ranking a page for a single keyword only is nearly impossible.
By design, any piece of content on Google will rank for many different search queries.
As you can see in this example from our own blog on digital marketing strategy for manufacturers, Google Search Console reveals we are ranking for much more than just our target keyword and this is only a small preview of the total portfolio.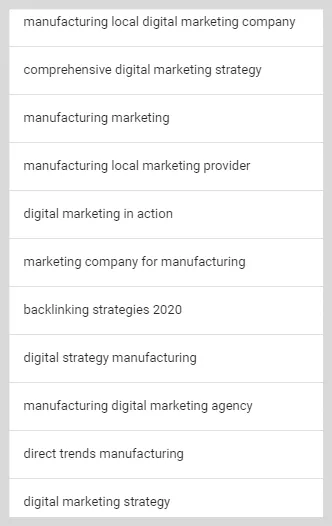 Since Google crawls your entire web page and all of the content on it, it's possible that your page will be placed in Google's index in several different places (search queries).
This is another reason why comprehensive content is so important. Covering topics thoroughly will expand your potential to drive traffic from Google to your site.
How to Do Keyword Research for SEO: Step by Step
Keyword research is multifaceted and can be broken out into multiple steps. It's important to make sure you understand and follow each to make sure you're selecting the right keywords.
Here are the steps to doing keyword research:
Know Your Audience & Goals
Know Your Ranking Strength
Create a Keyword & Topic Spreadsheet
Assess the SERP & Search Intent
Analyze Keyword Trends
Look at What You're Already Ranking For
Look at What Your Competitors Are Ranking For
Study How Your Competitors are Using Keywords to Rank
Use Keyword Research Tools
Analyze Your Compiled Keyword Data & Findings
Create Keyword Informed Content
Wait and Then Study the Data
Know Your Audience & Goals
This is the first step in keyword research and one of the most important. Since keywords can be thought of as topics it's important to understand which topics your audience is interested in.
This can be done through interviewing, questionnaires, studying the competitive landscape, or general ideation.
If you aren't serving the right topics to your users, you may receive negative behavior signals and diminish your ranking potential.
Your goals are your overall ambitions for your website and also goals for any particular piece of content you are publishing. What do you want users to take away from this piece of content or page, what do you ultimately want them to accomplish? Does this align with what populates on the search engine results page (SERP) when you Google your target keyword?
Identify these two items first and you will set yourself up well for a successful SEO campaign.
Know Your Ranking Strength
Ranking Strength, otherwise known as Domain Authority, is your website's power to rank on search engines.
Domain Authority (also known as Page Rank) is comprised of several different factors including total organic traffic, total backlinks, total referring domains, and more.
Sites with higher Domain Authority will naturally be able to rank higher than others since they have a stronger trust signal to the given search engine.
If your domain is brand new, you'll naturally have more difficulty ranking for high search volume keywords which more people are searching for.
So, for example, instead of trying to write a blog and rank for "best graphics card" (18,100 searches per month), you'd be better off writing a more niche-focused blog with the main topic keyword of "what is the best nvidia graphics card" (170 search per month).
The reason this is a better approach is because it would be nearly impossible for your brand new site to rank well for the broader search term.
Ultimately, you'll receive more traffic from the lower search volume keyword and begin building your Domain Authority so that you can eventually rank for those huge keywords.
Create a Keyword and Topic Spreadsheet
Once you're ready to really dive into the keyword research itself, you'll want to assemble a spreadsheet that will organize your keywords and all of the data you want to analyze.
Create a tab for each prospective target keyword and any sub-topics (secondary keywords) you want to analyze further.
Set filters for the columns so that you can narrow down and isolate keywords based on different variables.
As you go through your keyword research, you will add to this list and begin to shape what will become your final piece of content.
Assess the SERP & Search Intent
The Google SERP can look very different based on what the search query input is.
Google has created many different styles and variations of their results page based on queries to improve user satisfaction. Being familiar with these queries is important to determining if you should pursue a keyword or not.
Micro-Moments and SERP Features
Micro-moments are how Google understands what users want from a particular query and it helps shape the visual appearance of the SERP.
Getting even more specific than micro-moments are SERP features. SERP Features are the actual elements of the SERP that make it unique for the particular type of query.
If you are trying to rank for a search term that populates Google Shopping results but you want your local business to be found, you're likely targeting the wrong keyword.
Here are the current existing SERP Features:
Domain Authority
Make sure to also analyze competitor Domain Authority. If the SERP is dominated by high DA sites and you have a low DA site, it may be a signal to look for a new keyword topic.
Analyze Keyword Trends
Like human interest, keywords ebb and flow. Every keyword sees changes in monthly search volume and it's important to know how your particular keyword is trending.
Some keywords see more dips and rises than others. Evergreen keywords are keywords that stay relatively consistent over time and will continue to be searched.
Other keywords are more timely and may only have a short or seasonal lifespan. If you miss the peak of traffic volume, it may be too late to gain significant traffic from this topic at that current moment.
In order to see what topics are trending, we suggest using Exploding Topics. Created by Backlinko Founder, Brian Dean, Exploding Topics analyzes search trends to highlight what's popular (exploding).
This is a great way to stay in touch with what types of content might be opportunistic to publish.
Look at What You're Already Ranking For (GSC)
Keyword research doesn't just involve looking at what you could potentially rank for, but also what you are already ranking for.
Some of the best places to find keyword opportunities may be right in front of you.
In this example below, we can see that this particular blog on heart rate variability and stress is ranking on page 1 for several core terms. However, there is an additional opportunity for traffic.
In this case, the content may be able to be reworked in order to improve rankings for "what is hrv stress," as indicated by the low CTR and page 2 average position.
Following this same technique, you can use Google Search Console to look at your own existing content, sort by Impressions, and looking at what queries you are ranking for but receive clicks or have a very low CTR.
In some cases, it may inform an entire re-write and re-target or it may just be a matter of a quick SEO title update to increase CTR.
Often, you will find after publishing a piece of content that the data in GSC shows potential for additional traffic from search queries you may not have uncovered in your initial keyword research.
More on this in our guide to using Google Search Console to improve SEO.
You'll want to go through the same keyword research processes outlined here to make sure that the new keywords found in Search Console are ideal targets.
Look at What Your Competitors are Ranking For
Keyword research doesn't just revolve around your website, it matters what your competition is doing too.
If your competitors are engaged in an SEO campaign or have had success on Google, you'll want to analyze exactly what they are doing and how they are getting traffic to their site.
With the SEMRush Keyword Overlap tool you can compare total keyword portfolio size across domains.
Then you can take a look at how each domain is ranking for specific keywords, and whether your domain is ranking for those keywords as well as competitors or not.
From there you can take a look at each domain's page traffic and see what pages are pulling in the most organic users.
One tactic you may choose to use is to target a specific keyword your competitor is targeting and attempt to take market share away from them by outranking them.
If you do take this approach, you'll want to make sure you follow our blog SEO tips, particularly the 10x Method which will set you up for success.
Study How Your (SERP) Competitors Are Using Keywords to Rank
You'll also need to analyze how your competitors are targeting specific keywords in order to rank higher.
In this case, we're looking at the competitors on the SERP, not necessarily the direct competitors in your product or service niche. Very often, these two groups can differ.
Typically we suggest analyzing the top 3-5 search results for the target keyword.
Assess how they are integrating keywords into their metadata and how they are answering user search queries.
Ask yourself, is there anything that they've missed that you could incorporate? Are there certain subtopics that their content was weak on and you could improve on?
Using the keyword research tools and accessories below, you'll be able to compare domains and pages to further uncover clues as to how you might be able to overtake your competition.
Use Keyword Research Tools
Keyword research tools will allow you to further pin down whether or not you should focus on particular keywords.
Note: You do not need to use paid keyword research tools to do keyword research. However, they will make the process easier, more convenient, and more thorough.
As we will discuss, keyword research can get very tedious as there are a lot of details to pay attention to. Keyword research tools allow you to filter through thousands of keywords at a time to find the right ones for your particular use-case.
At this point in your research, you may have an idea of your target topic from analyzing your competitors, looking at trends, analyzing your own data, ranking strength, and the SERP.
From here, it's time to find out if these topics will be beneficial to put resources toward and also identify related keywords and common questions around that topic or keyword.
Here you can look at important data points like Keyword Difficulty, Volume, SERP Features, Trends, and Related keywords.
All of these elements play into assessing whether or not to target certain keywords.
Keyword Difficulty
Keyword Difficulty is defined as how difficult it would be for a new website to rank on Google on a scale of 0-100%.
Just because a keyword has a high Keyword Difficulty does not necessarily mean you shouldn't attempt to target it. Remember, as previously discussed, targeting one keyword doesn't mean this is the only keyword you'll rank for. You can still rank for related keywords, as well. Keyword Difficulty should not be used as the sole determination for targeting a keyword.
However, this metric is still important to consider. You'll want to compare KD across the various keywords you are assessing and measure them against each other for perspective.
Volume
Keyword volume is a measure of how many searches per month are performed on average over the last 12 months.
Although it may be tempting to try and go for the highest volume keywords, it's important to understand your ranking strength (Domain Authority) and be realistic about which keywords you can rank on page 1 for.
You will likely be better off targeting a lower volume keyword first while building additional authority.
Related Keywords
Your content (particularly blog content) should be broken up into sub-sections (H2's, H3's, H4's). This is not only beneficial for keyword rankings but also helping users browse your content and thus sending positive user behavior signals.
Related keywords help act as a guide for how your content should be outlined.
Each related keyword or query can be thought of as a sub-topic. In order to thoroughly cover the subject, you should make sure to cover the main questions or talking points around that topic.
For example, if you wrote a blog on 'How to Survive in the Wild', your subtopics (H2's) might look like this:
Steps to surviving in the wild
How to find water in the wild
How to survive in the wild with nothing
How to make survival tools in the wild
This way you aren't just addressing the main topic, but expanding beyond it to cover these important sub-topics, as well.
After assessing these different variables, export any keywords along with the data points into your keyword spreadsheet.
Analyze Your Compiled Keyword Data & Findings
At this point, you'll likely have a solid list of keywords and related keywords along with a lot of numbers and various other bits of information.
Now consider all factors and decide what your core target keyword will be.
This could be based on some or all of these variables:
Your current state of business & products
Your audience and goals
Keyword trends
What you're already ranking for
Search volume
Keyword difficulty
SERP Features
The competitive landscape
The content you already have published and want to build around
Search intent
Create Keyword Informed Content
The next step in your research is to actually create your content. This is where the rubber meets the road and it's time to implement everything you've gathered into one awesome piece of content.
We've gone in-depth about this in our blog SEO checklist article, so make sure to move onto that next after you finish reading this article.
Wait and Then Study the Data
This is one of the most important steps that can be totally missed if you don't think about it.
Once you've published your SEO informed content, that isn't the end of your keyword research.
We suggest revisiting data and auditing your content on a monthly basis and allow at least 3 months of data to gather before making major changes or updates to content.
Follow our content refresh guidelines and uncover areas of opportunity within the keyword data to find out how you can gain additional traffic.
Keyword Research Checklist
Now that you understand the process of keyword research, it can be helpful to have it all synthesized into a checklist to use each time you tackle a new project.
Use this to make sure you've covered all of your bases:
Perform audience research
Identify goals
Identify your domain authority
Create a keyword & topic spreadsheet
Ideate potential target keywords/topics
Research volume and keyword difficulty
Analyze the SERP
Identify search intent of target search query
Determine if search intent matches content and company goals
Analyze trends for target keywords
Analyze Google Search Console for current keyword rankings
Audit your competitor's keyword portfolio
Perform a keyword gap analysis
Study top SERP competitor keyword targeting
Research related keywords and user queries
Compile data into keyword & topic spreadsheet
Analyze data
Create content outline based on research
Create and publish keyword informed content
Wait and then study data
Rework and republish content based on data gathered
What are the Best Keywords for SEO?
This is a very common question we hear but in reality, it's generally a misnomer. There is no such thing as the "best keywords for SEO."
The best keywords for you are going to be the keywords that present the best opportunity based on all of the above factors.
In general, growing your keyword portfolio and organic traffic is always positive. So if you've done your homework, followed the steps above, and have a good idea of why you're targeting a specific keyword, you're likely using a good keyword.
If someone tells you they have the "best keywords for SEO," they're selling snake-oil. It's all relative and specific to each domain.
What are Keyword Research Tools?
Keyword research tools are web applications or accessories that allow you to analyze keywords and the keyword landscape in various different ways.
Keyword research tools come in many different variations and with different purposes.
While some tools claim to be "all-in-one," we find the best results in SEO come from using multiple, different tools.
Keyword research tools (depending on the tool) can look at factors such as:
Keyword trends
Search Volume
Keyword Difficulty
Related Keywords
SERP Feature analysis
Below you can see we've compared some of our go-to tools to highlight how each one works.
Keyword Research Tool Comparison Chart
As you can see, the functionality of these tools varies widely. That being said, just because one tool checks more boxes than the other, doesn't mean it's better.
For instance, SEMRush is an absolutely fantastic keyword research tool that we heavily rely on for our own clients and internal work – however, we still refer to each of these other tools for their various specific features (outlined in more detail below.)
Why Do You Need Keyword Research Tools for SEO?
Keyword research tools allow you to access information that can give you a leg up on the competition and specific target keywords that will drive traffic to your site.
Writing content without doing keyword research is basically like hiking into the wilderness without a map. You can do it, but you'd be much better off with one.
Even if you don't follow every step of this guide exactly, be sure to check for search volume, analyze the SERP, and audit competitors before writing and publishing content, at a bare minimum.
What are the Best Keyword Tools? (Free & Paid)
The best keyword research tools will depend on your use case as many of them tackle different jobs in different ways.
However, we've found success using the set of tools outlined below and find these to be the best for our own purposes. It's worth investigating and testing each of them to see how they fit into your process.
SEMRush (& SEOQuake)
Free + Paid
SEMRush is the king of SEO tools. This is the engine of your SEO vehicle. This tool is as close as it gets to an all-in-one SEO tool.
From competitor research to related queries, keyword gap analysis, search volume, SERP analysis, and so much more, we see this as essential piece of your keyword research tool belt.
That being said, the free version can feel limited and the paid version can seem pricey depending on your use case. If it's in the budget, definitely go for it.
SEMRush also has a Chrome extension called SEOQuake that we use to quickly audit metadata and assess the SERPs.
Keywords Everywhere
Free + Paid
Keywords Everywhere is a great Chrome Extension for SEO work that I consider to be more of an SEO accessory.
The main function we use it for is to find related topics around a specific search query.
This helps determine sub-topics as well as search intent.
Exploding Topics
Free + Paid
Exploding Topics is an analysis tool specifically designed to look at keyword trends in the search space.
Exploding Topics is a fantastic way to see what topics you might want to publish blog content on to catch a particular wave in traffic, or if the keyword you are interested in is in a downturn.
You can even change the time period and analyze up to 5 years of data.
Ubersuggest
Free + Paid
Ubersuggest is another extensive keyword research tool, similar to SEMRush.
Ubersuggest was formerly a more limited keyword research accessory – that is, until Neil Patel took it over and completely overhauled it.
He has transformed Ubersuggest into an entire platform of tools, stating that he created it with the intention of making a tool like SEMRush, except much more accessible.
For some time it was completely free, however Neil has decided to start charging for it – although at a lower cost than SEMRush. The free version is still very useful but if you'd like to access the total potential of the tool and data, you'll need the paid upgrade.
That being said, we still find SEMRush to be more all-encompassing.
Ubersuggest can be used when you find SEMRush has a gap in what you're looking for, or if you feel you need to analyze a domain or keyword from a different perspective.
They also have an Ubersuggest Chrome extension similar to Keywords Everywhere that you'll want to give a try and compare.
Google Search Console
Free
Google Search Console is one of the less thought of keyword research tools, but we see this as an integral part of our quiver.
Analyzing your own content data and identifying opportunities and errors is a huge component of keyword research and content production.
It's completely free and it's made by Google themselves. If you aren't using GSC, it's time to get started!
AlsoAsked
Free
AlsoAsked is a simple but fantastic tool that can be used to generate a map of related questions to any given query.
It populates this information using data from the People Also Asked feature of Google.
We find it really helps visualize the questions that people have about a given topic and often helps shape the sub-topics of our blogs.
Competitor Websites
Free
Not necessarily a "tool" per se, but yet so important! Never underestimate the power of a good old-fashioned manual site crawl.
You can investigate how your competition is using keywords and topics to draw users in.
Before writing a piece of blog content, we always suggest paying a visit to competing websites to spy on what they're doing.
50 Other Keyword Research Tools
There are even more keyword research tools in addition to those covered above. You may want to investigate and compare them to see if they are right for you:
Keyword Research Resources
Tools are just part of the keyword research puzzle. If you're interested in diving in further and learning more about keyword research, we highly advise taking a look at the list below.
Blogs
Videos
Podcasts
More Common Keyword Research Questions
Still have questions about keyword research? Here are some more common questions about the topic. If you can't find what you're looking for, let us know in the comments below, or if you'd like to partner with us on a project, contact our digital marketing experts today!
What is long tail keyword research?
Long tail keyword research involves discovering keywords that are lower in search volume but higher in relevancy to your audience. These keywords are typically longer in length.
Long tail keywords are great, and likely what you'll be targeting if your website is new or young. But we like to focus more on topic relevancy and search intent, rather than getting caught up in whether or not a keyword in long tail.
How long does keyword research take?
Keyword research can take anywhere from a couple of hours to days to complete. There's no set time on how long it takes but you will become more efficient as you learn.
How Do I Use Keywords in My Website Content?
As mentioned previously, keyword stuffing is outdated and putting your keywords in certain specific places isn't quite as important as it once was.
That being said, it's still important to understand SEO ranking factors and how to use the keywords you've found. So we've written a part 2 to this blog series which goes over the implementation process step by step.
Conclusion
While keyword research has changed, it still needs to be done. Take your time, think about your users and search intent, and write excellent blog content and you'll be on your way to driving new traffic to your site from Google in no time.
---
More articles from our blog you may want to read:
Ben Rea
Digital Marketing Production Lead
Ben is a marketer with a laser focus on developing, implementing, and optimizing holistic strategies that skyrocket KPI's. He has been in the digital marketing industry for 10 years and specializes in SEO, Content Marketing & PPC.
"*" indicates required fields