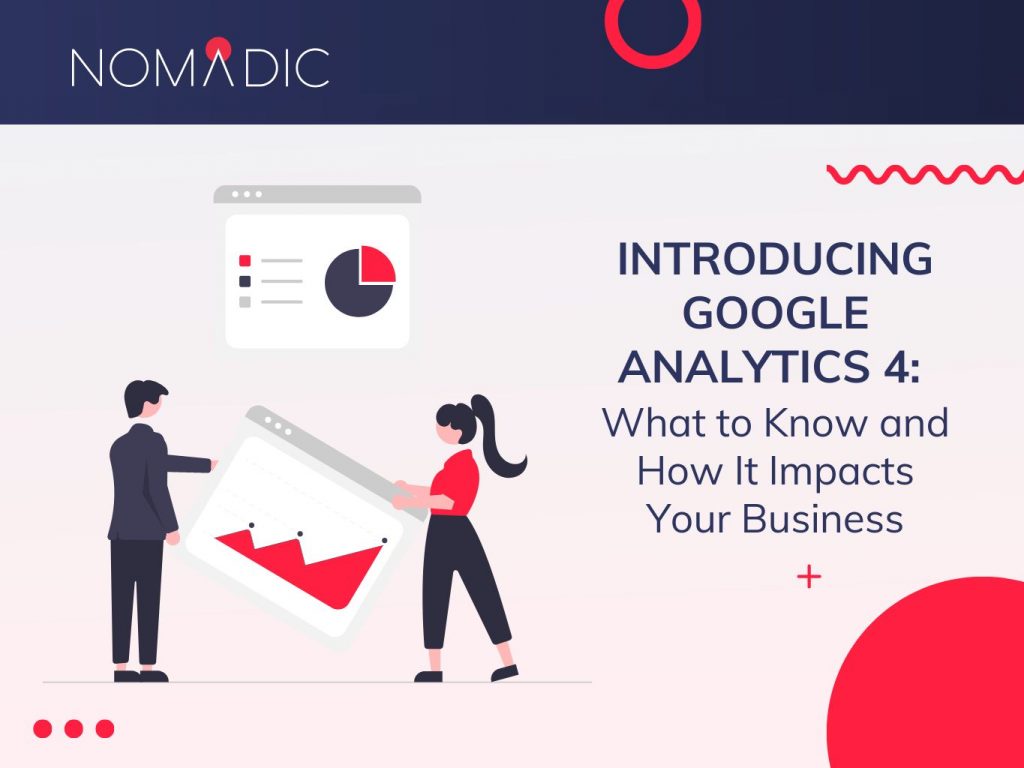 Introducing Google Analytics 4: What to Know and How It Impacts Your Business
You may have heard the buzz that beginning in July 2023, Google will stop processing data for UA and exclusively use the newest iteration of data analysis, called Google Analytics 4 (GA4). This blog overviews what you need to know about GA4 and how Nomadic will ensure your company can get the most helpful information from the new platform.
What Has Changed
Both data models seek to provide users with valuable insights about what activity is happening on their websites. GA4 uses new terminology and prioritizes data differently, as we'll see below. Let's dive in.
Hit Types Are Now Called Events:
Universal Analytics captured user interactions like page views, user timing, and screen views, and called them "hits." In GA4, these are now all lumped into one category called "events," which can be further categorized however you'd like. 
Capturing data through events is designed to collect more meaningful information for businesses. In fact, there are 25 different parameters included in the event function. Plus, while some events will automatically be collected for you, you can also create custom events tailored to metrics you're curious about. One example of this would be creating an event to track how many individuals fill out Contact Forms on your website.
Users are also excited about the fact that GA4 allows for uniform tracking taxonomies across platforms, which are called Properties. This way, you'll be able to track data streams on iOS, Android and web properties.
To the benefit of businesses, data analysis through GA4 is very dynamic. With Nomadic on your team, we can customize GA4 based on the metrics that you care about. The graphic below provides a snapshot of the customization available to you through the explorations function.
There are many different types of explorations including:
Free Form
Funnel Exploration
Path Exploration
Segment Overlap
User Explorer
Cohort Exploration
User Lifetime
Conversion Events: Tracking What Matters to You
You will be able to identify which events are the most meaningful to your growth and schedule conversions for them. In Universal Analytics, this was referred to as "goals". Nomadic will assist you in changing your goals to conversion events, which will provide you with meaningful data. You'll be able to see this data both in the real-time feature, and in your Standard Report, which generates every 24 hours. 
Sessions: What is Changing?
Session tracking is crucial for understanding how users are navigating through your site. Google released this chart highlighting how GA4 will track session data.
| | | |
| --- | --- | --- |
| Metric | UA | GA4 |
| Session | Period of time a user is actively engaged with your website or app-Has defined parameters for what may cause it to end e.g. a session will end when there has been more than a 30-minute period of inactivity (depending on the session timeout settings), the timestamp has been cut off at midnight (according to the timezone the view is set up in), or new campaign parameters are encountered. -If a user comes back after a session timeout, it will start a new session-If the user is on the website when midnight arrives, a new session will be started-If a user picks up new campaign parameters while on the website, a new session will be started | aka Session Start-To determine the session that each event comes from, the session_start event generates a session ID and Analytics associates the session ID with each subsequent event in the session-A session will end when there has been more than a 30-minute period of inactivity (depending on the session timeout settings)-Sessions are not restarted at midnight or when new campaign parameters are encountered-If a user comes back after a session timeout, it will start a new session |
Engagement Rate vs. Bounce Rate
Engagement rate is a more dynamic model of how your users interact with your page. Sometimes a high bounce rate is not a bad thing. For example, maybe your user was looking for your phone number, found it quickly and bounced off the page. The user still got the intended value out of your page! 
How GA4 Impacts You
Analyzing user data is a crucial part of building a successful website. GA4 will change and improve what this looks like for your business. In July 2023, Universal Analytics will no longer collect data. All websites will shift to GA4.
By the end of 2023, Nomadic will have you set up with GA4 and collect meaningful data to help your business thrive.
Don't Delay! UA data will not automatically transfer to GA4. Therefore, it will be beneficial to set up GA4 as soon as possible. That way, you will be able to have historical data to compare with the new data. This will also prevent last minute disruptions.
Conclusion
Contact the Nomadic team to update to GA4 today!
If you're hungry for more information about the functions of GA4 and how they might impact you, check out these additional resources:
Cacy Lyon
Digital Marketing Coordinator
Cacy is a digital marketing coordinator specializing in SEO. She loves the creativity of writing blog posts for each unique client. Cacy loves house plants, yoga, and traveling. When she is not working, she is usually hiking with her dog.
"*" indicates required fields