How to Use Google Search Console to Audit & Improve SEO
What is Google Search Console?
Google Search Console (formerly Google Webmaster Tools) is a free tool created by Google to analyze and monitor your website and organic search (Google Search) data.
Google Search Console may be the most underutilized SEO tool by SEO professionals, marketing specialists, and business owners alike.
While some 3rd party SEO tools are useful, GSC is literally data straight from Google. If you're trying to improve your presence on the world's #1 search engine, why not go right to the source?
Google Search Console is a tool I use every day as an SEO professional and should be in anyone's quiver who is serious about getting more organic traffic from Google.
In this article, I'll outline exactly how I use GSC to improve our SEO, drive more organic traffic to client websites, and how you can replicate this on your own site.
Why You Should Use Google Search Console
Along with the aforementioned perk of acquiring data directly from Google, there are a number of benefits to using Google Search Console:
Connecting your website to GSC will help Google to more easily understand and crawl your website. Crawling can be more thorough and frequent which is beneficial for getting pages ranked or re-ranking updated pages.


You can submit new pages to Search Console to help them get indexed quicker.


GSC allows you to investigate technical issues which could lead to SEO deranking, a decline in rankings, or poor user behavior.


You can monitor security issues to keep your site safe.


You can analyze backlinks and internal link information which can help build a strategy to increase Domain Authority.


You can inspect specific pages to discover indexing issues.


You can identify pages with poor click-through-rate (CTR) that may need retargeting or improved metadata.


You can identify pages with low impressions that may need reworking, retargeting, rewriting, or noindexing.


You can identify pages with a low average position that may need reworking, retargeting, or rewriting.


You can monitor and analyze site content overtime to make impactful and data-backed SEO decisions.
The bottom line is if you own a website, or you are performing SEO on a website, getting set up on Google Search Console should be a must. For the simplicity of setting it up, the benefits far outweigh the effort.
How to Set Up Google Search Console
Setting up Google Search Console is not nearly as technical as some of the features inside of it.
Here are the step by step directions to get started.
1. Go to the Search Console main page and hit Start Now.
2. Click Search Property in the upper left-hand corner, then click Add Property.
3. If you can perform DNS verification (Completed through your host), you should use the Domain Verification as this will cover subdomains and all HTTP variations of your domain.
If not, use the URL prefix method and enter your main URL (the full URL that shows up when you go to your website).
If you have subdomains, you should always be using the Domain Verification method as this will allow you to aggregate all of your data into one Search Console property instead of having the data separated into multiple properties via the URL Prefix method.
In order to verify your site via the URL prefix method, the easiest way to do this will be to add the HTML tag to your SEO plugin via the advanced settings. Otherwise, you can directly embed the code yourself in the <head> section.
*Note: You will not be able to use the legacy tools if you choose Domain Verification.
From there, you are technically set up but there are a few more steps to make sure everything is complete.
4. Go to the sitemap tab and insert your sitemap URL. If you don't already have a sitemap, make sure to install and configure an SEO plugin (for WordPress sites) that will generate one for you like Yoast SEO or Smartcrawl Pro.
5. Go to Legacy Tools and select international targeting. From here, navigate to the country tab and select your country.
That's it! You're all done and
Google Search Console Tools & Features Explained
As you can see, Google Search Console is highly beneficial to your SEO plan.

Below I've outlined the various tools at your disposal through GSC that can be used to audit and improve your organic presence.
Overview
The overview tool is pretty self-explanatory – it's an overview of your data and some of the various dashboards throughout.

It's useful if you're just checking in quickly on some high-level metrics or monitoring variables like site speed and indexing.
Performance
This is the dashboard you'll likely be spending most of your time on if you're interested in improving your SEO long term.
This is the bread and butter of Search Console. The data here contains the opportunity you can unlock from GSC.
Through the queries and pages reports, you'll be able to identify areas of improvement that can give you near-exact instruction on what to address in order to rank better (more on that later).
Here on the performance report, you can dig into the search query data, rankings for specific pages, or specific sections of your site (using filters).
URL Inspection
The URL inspection tool is located at the top of Google Search Console and is commonly used for requesting indexing or reindexing of pages as needed.
There are also other useful features of this tool such as checking for indexing status and mobile usability. If you want to check on the health of a page at any time, this is where you should go.
Coverage
In the coverage dashboard, you'll see details on the indexing coverage of your sitemap and pages outside of your sitemap.

You can find issues with pages such as 404's, pages blocked by robots.txt, and noindexing.
You can also see a graph that shows the trend over time for pages with errors, warnings, no errors or warnings (valid), and excluded pages.
This is a page that you should check in on frequently to monitor the health of your site and pages.
If you have a very large site and a number of errors and warnings, you should export the data into a spreadsheet and work through the pages starting with the highest priority items first.
Sitemap
The sitemap page is also very straight forward. This is where you submit your sitemap to Google Search Console, which will help Google crawl your site and understand what it contains.
Core Web Vitals
Core Web Vitals is a newer addition to Google Search Console which allows you to closely monitor site speed across pages on both mobile and desktop.
You can also inspect specific pages to find out exactly what issues are slowing that content down.
Mobile Usability
In the mobile usability tab, you can analyze your mobile compliance against Google's standards for mobile usability.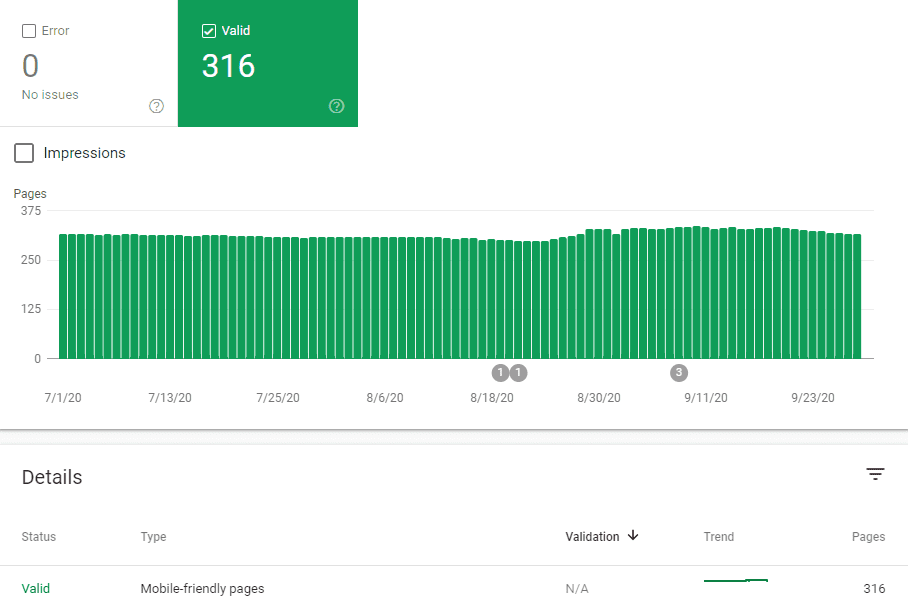 You can see specific issues for specific pages and test the live page with Google's Mobile-Friendly Test to see where the issues are on your page.
Legacy Tools and Reports
In past years, Google Search Console has undergone some updates and even fully revamped the platform.
With this update came the retiring of some tools and features. Although they are still accessible and may be built back into the new (current) version of GSC at a later date.
Some of the more useful tools include:
International targeting – Set your country in order to let Google know how they should show your site in search results and improve search results for geographic queries related to your domain.

Crawl Stats – Analyze the Google Bot crawler activity on your site to ensure proper crawling of your site and monitor for crawling improvements over time.

Web Tools – Here you can access the Structured Data Testing Tool and Structured Data Markup Helper to help improve how your site displays in search results.
Links
In the links dashboard, you can view a handful of different modules relating to external and internal links.
External Links – Also known as backlinks, are links from other sites that point to your site. Backlinks are a know SEO ranking factor that can help improve Domain Authority.

Internal Links – Internal links are links from one page to another on your website. Internal links are helpful for several reasons including helping users navigate your site, helping Google understand and more thoroughly crawl your site, and transferring authority from one page to another.
Settings
In the settings module, you can take care of details like a change of ownership and verification.
If you've updated your URL recently this is also where you can notify google of a domain name change.
How to Audit and Improve SEO with Google Search Console
Now that you're set up and familiar with Google Search Console, it's time to get into the fun part – optimizing your content and improving SEO.
Google Search Console may just be the most important SEO tool you use and I'll show you why.
Submit your Sitemap
This is probably the number one mistake I see clients make with Google Search Console other than not being connected to it at all.
Submitting your sitemap is extremely easy (see above) and very beneficial.
Submitting your sitemap notifies Google of the pages on your site. Google can crawl your site without the sitemap submitted but having it submitted can help make it easier and more efficient.
Crawling is extremely important to your SEO because it's how Google reads, understands, and indexes your website in their search engine.
If there is one low hanging fruit task you can take care of today – this is it.
Submit Your Content Via the Inspect Tool
This is another low hanging fruit opportunity to improve your SEO.
The inspect tool is a really quick way you can notify Google of a new page or an updated page and request indexing or reindexing.
Getting your pages indexed and updated quickly on the SERP (search engine results page) can be very important to SEO success.
Make sure to submit your new content here or any major updates to pages to request a recrawl and index.
Analyze and Address Technical Issues
Technical issues can be a huge hindrance in getting your pages indexed on Google but they can also be harmful to your user experience which impacts SEO.
The biggest issues you can find here are 4XX and 5XX status code issues which means that the content is not accessible or doesn't exist.
It's very important to fix these items quickly as they send negative signals to both users and Google.
You can also find issues with redirects, missing pages from your sitemap, duplicate URL's, and more.
Find Opportunity Keywords
This is the #1 reason I love Google Search Console and why I use it every day and for every piece of content I write.
GSC is loaded with keyword opportunities.
What are keyword opportunities? They are phrases or topics that you are missing or not emphasizing in your content that have huge potential.
Here's an example:
As you can see with this article titled "Best Sellers: Our Top 15 Armchairs Under $500", in the past 12 months this blog has driven very little organic traffic.
But take a look at the impressions, they are in the thousands! This is all potential niche target audience site traffic being missed.
So what's the fix?
Looking at the highest impression driving keyword, we can see "accent chairs under $100" has a ton of potential. Not only that but it's in position 14, which is just on the cusp of page 1, even when the targeting is completely off.
In theory, this should be a straightforward adjustment. Before I breakdown the process, review their metadata, and notice the issues.
Based on the current target topic ("chairs under $500") and the results of the blog over the past 12 months, we can safely assume that there is very little to no volume for that query (You can use a keyword research tool like SEMRush to back this up).
So reworking and retargeting will be necessary to drive any new organic traffic.
Here are the steps to follow to fix this piece of content:
Rework the content in general, to focus on accent chairs under $100 rather than $500 since that's what users are looking for.

Retitle the piece (new H1 & remove 'Contact Us' as H1, remove title as H2) to include the target keyword, lengthen/improve to make it more engaging.

Update the SEO title to reflect the H1.

Set the focus keyword to 'accent chairs under $100'.

Update the meta description to contain the new target keyword, shorten the overall length, and include any secondary keywords.

Include the target keyword in paragraph content (naturally, don't force it).

Rework H2's to be relevant subtopics and add subtopic content

Chair names and types become H3's.

Add additional content to lengthen and target sub-topics from GSC data, keyword research tools, and/or related query tools like Also Asked.

Follow the blog SEO best practices checklist and implement any additional changes or updates needed to improve the content.

Republish and submit the content for recrawling to Google Search Console.

Repromote the content through social media, email marketing, and any other available channels.
This should help this piece of content start getting significantly more traffic and tap into those thousands of impressions coming in for 'accent chair under $100'.
You can follow this same process for any other piece of blog content or site page. It's all about identifying the potential and adjusting accordingly.
Find Opportunity Pages
Opportunity pages are the high-level way of looking at content opportunities before you dig into the keyword metrics.
This the dashboard that I visit first on a daily basis to analyze our blog data.
Again you're analyzing the relationship of clicks, impressions, CTR, and average position.
It's a great way to assess the general improvements and success of the site as a whole or specific sections.
As you can see with this particular piece of content, over the past 16 months, it's seen a decline in impressions (and clicks) due to a loss of average possition.
The content used to be in position 3 on average but is now just off of page 1.
This is a great opportunity to assess the blog, analyze the SERP, and competitor articles to strategize and implement a rework to get the piece back to page 1.
When looking at the bigger picture, I personally tend to use a page filter to isolate only pages containing "/blog" – that way I can get the big picture of the progress on our content.
From there, you can click into individual pages and audit their progress over time, then dig into the keywords and decide if it merits any content modifications.
Here are some examples of what action you may need to take based on given variables:
The content has low impressions, low or no clicks, poor positioning – Rework and retarget the article and metadata entirely.


The content has low impressions, low or no clicks, good positioning – Your target query may have very little search volume, rework to target a new topic.


The content has high impressions, low or no clicks, poor positioning – The target topic has high volume but you may need to add to and modify your content to cover the topic more thoroughly. Adjustments to metadata may be necessary as well.


The content has high impressions, low or no clicks, good positioning – Analyze your metadata vs. target keyword, your title and meta description may not be communicating or enticing clicks properly. Analyze the SERP and assess why other links are getting clicks vs. yours.
Identify Internal Linking Opportunities
Internal linking is more important than you might realize. Internal linking (linking within your site from page to page) is critical to helping Google crawl and understand your site.
Internal linking also helps pass "Link Juice" (page authority) from one page to another.
If one page has very few internal links, that page is effectively becoming isolated and not getting the benefit of the page authority of stronger pages.
By using the internal link report in the links tool of GSC, you can identify pages that have weak internal linking versus strong and add some additional linking to those weak pages.
Find Harmful or Weak Backlinks and Disavow
Not all backlinks are created equally – in fact, some can be harmful to your SEO efforts.
Spam domains and malicious websites often link to other sites and you may find yourself victim to this. It's important that all backlinks pointing to your site are relevant and healthy.
With the external links report, you can identify and export harmful links to submit them to the disavow links tool.
While this will not remove the link from a website, it will tell Google to ignore this link when assessing your domain.
Be cautious with this tool, as it is potentially harmful if you disavow valuable backlinks.
Advanced Google Search Console Features and Tips
Those are the basic ways to improve your SEO with Google Search Console, but there are a few more advanced tips and features that will help you get the edge on your competition.
Identify Opportunities for Crawl Budget Improvement
Crawl budget is the number of pages Google will crawl in a day on your site.
Why is this important? If your crawl budget is very low and your site is large, it can take a long time for Google to crawl a page. Some pages may not get crawled for months at a time if you have a poor crawl budget.
Here's what you can do to increase your crawl budget and help the Google bot crawl your site more efficiently:
Remove unnecessary pages (if you have a large site) from crawling using the URL parameters tool. For example, if you have hundreds or thousands of /tag pages that Google doesn't need to crawl, you can remove 'tag' as the parameter.
Improve your site speed. The Google bot needs to load your page, just like a visitor does when it comes to your site. This will help improve crawl rate and thereby improve your crawl budget.
Acquire backlinks. Backlinks are one way of telling Google your site is authoritative or a page is important/trustworthy. By displaying this via backlinks, it's sending messages to Google that this page should be crawled.
Schema Markup Auditing, Implementation, & Enhancements
Structured data is information that helps Google understand what your page is about and also instructs them to display certain visual features when your page or website populates in the search engine results.
This can be really important for SEO for a couple of reasons:
The more Google understands your webpage, the more accurately it can rank you and display your information.
The better your content is displayed in search, the more likely your site is to get clicked.
It seems daunting and complex but the tools inside of GSC make it much easier to take care of.
First, head over to the Structured Data Markup Helper. This will help you identify and create your Schema.
Then input your link and select the data type.
Click 'Start Tagging' and you'll be brought into the actual tool. Here you can highlight the various items you see in the right-hand panel which will be populated by what you highlight on the web page.
Once you're done, click 'Create HTML', you'll be taken to a page with your JSON-LD markup ready to go in HTML format. This can be embedded in your web page <head> section.
Finally, make sure to check your schema markup using the Rich Results Test (Which is replacing the Structured Data Testing Tool).
Back inside of Search Console, you can keep an eye on enhancements to your content (via Schema Markup) over time and check for errors or issues.
Audit and Optimize Mobile vs Desktop Keywords
Mobile has become increasingly important to Google over the years as more and more users access the internet from their mobile devices.
Keyword and page rankings are not equal when comparing desktop vs. mobile.
In fact, your metadata may be displayed in a completely different way when comparing mobile to desktop.
It's important to understand and compare how those two data points differ.
If one or the other is suffering, you may want to audit your metadata and what it looks like on the SERP, then decide how to adjust it based on this information.
Identify Content for SEO Pruning
SEO pruning is the process of auditing, identifying, and taking action on pages of your website based on data. More directly, it refers to removing or noindexing poor performing pages.
If you have a very large site with thousands of pages, SEO pruning may be right for you.
The reason SEO pruning is important is because large sites can become easily overgrown and need trimming.
Domains like ecommerce or news sites end up overflowing with pages and content that may not need to be indexed or crawled.
Exporting your data from your pages report and putting them into a spreadsheet, you can identify pages that need action taken on them.
Define thresholds for target CTR and average position based on your goals and best practices.
If any given page does not meet this threshold and is receiving little to no traffic and little to no impressions, it may be time for this page to either be deleted and redirected or noindexed.
If a page can be reworked, added to, or modified to improve targeting, positioning, and traffic, you may want to instead take that route. On a large site, this method should likely only be used for high potential pages.
SEO pruning will decrease your overall site size, increase your crawl budget, and increase your average page authority.
Google takes into consideration your entire website when determining your overall authority, so that means weak pages weaken your site.
This process will help strengthen your site as a whole.
Conclusion
Google Search Console is a powerful tool with incredible potential to improve your SEO and gain traction on Google. With this data, you can monitor and optimize your site to make the most out of your content.
Remember to not only install GSC on every site you work on but to continually monitor the data and update your website as needed.
---
More articles from our blog you may be interested in:
Ben Rea
Digital Marketing Production Lead
Ben is a marketer with a laser focus on developing, implementing, and optimizing holistic strategies that skyrocket KPI's. He has been in the digital marketing industry for 10 years and specializes in SEO, Content Marketing & PPC.
"*" indicates required fields